2009/06 - Kings Canyon National Park
Had a great time spending time away from civilization by going to Kings Canyon National Park this past weekend with a few good buddies!
Since everyone loves photos more than reading here's a few photos to start us off!
Boys will be boys showing who's number 1!
The tent in the back is my latest addition to my camping equipment. It's a Mountain Hardware Casa 6 with the footprint and rain fly. Sleeps 6 and also has a great feature of being able to stand inside! It's pretty big and surprisingly it sets up a lot easier than my crappy 2 pole 3 person tent. I think it took Bob and myself all of a few minutes? Taking it down was just as easy too!
What's a trip without showing the toys
Each site had room for 2 vehicles so we had to get creative in making sure Chris' trailer fits. If you guys are wondering who's green 4runner that is... it's mine and it runs so don't even start mocking me that it's just a virtual truck that never hits the trail. See that dirt below! Trail ready baby!
This trip was designed to be a weekend away from civilization. We had zero intentions of doing anything. When's the last time you got to do nothing away from home? The weather was great and well worth just relaxing. Chris got a new game so we had to give it a whirl. The game is called Bocce Ball. If you don't know what it is, it's a great game where you try to toss/throw/roll your ball closest to a golf ball sized market. The ball you throw is roughly the size of a softball. It's a great game and definitely killed some time
mmm Friday night dinner! Shrimp while camping? Hell yeah! Yup we had to splurge! Found a great recipe on
AllRecipes.com
. I changed the recipe a bit by replacing tomato sauce with tomato paste and added some Worcestershire sauce, oregano, rice wine vinegar and some plain jane red wine. Just got lazy trying to mix up the exact recipe so I just threw everything I can find in the cabinet that was close enough to it. I didn't tell my victims on the fubar recipe but surprisingly it tasted damn good!
Boiled up some twisty pasta and it was a complete meal! O yeah we have some hot dogs for Jack and also some side fixings!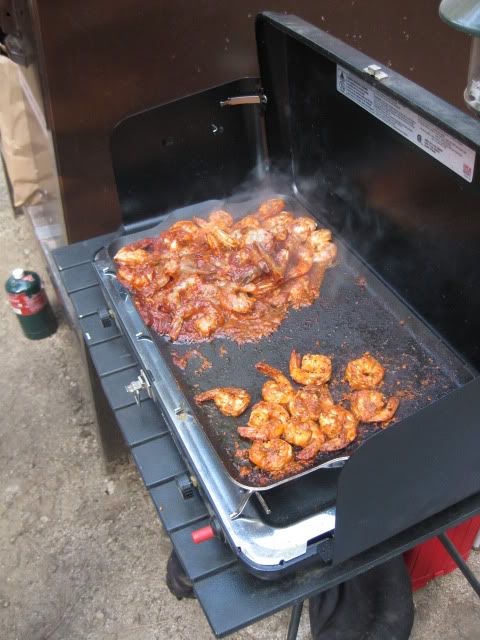 Nature at its finest...
I've seen black bears but never a deer! Way cool!!!
Saturday night dinner.... Linguica! Man this stuff was spicy but holy batman was it good! Not pictured here was Bob's sloppy joe. Sloppy joe for camp? yeah we're not normal
we love to eat just about anything you don't expect while camping! It was awesome! Bob, thanks for the recipe!!! The 3 alum items were corn.... mmmm corn on the cob!
Bob doing.... (umm... work...)
I'm glad all of my work requires a computer and internet. I was screwed cuz we had zero service out there
If you look closely at the grill, we're heating up some apple pie. You know what they say about "warm apple pie" right?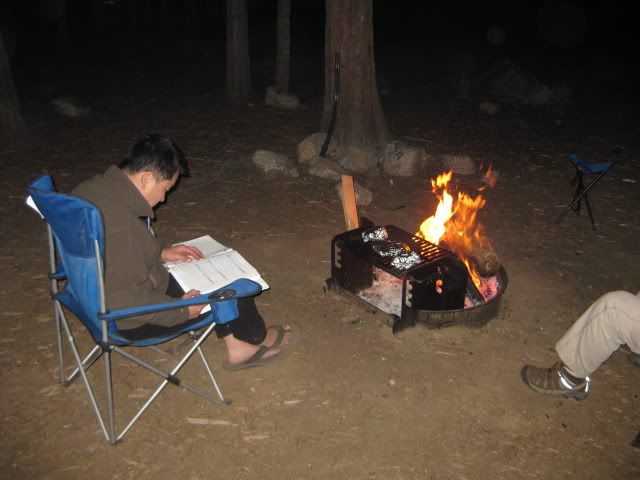 That's where the two rivers meet! This was on the way out of Kings Canyon. Can you believe we were somewhere near the base of the river to the top right?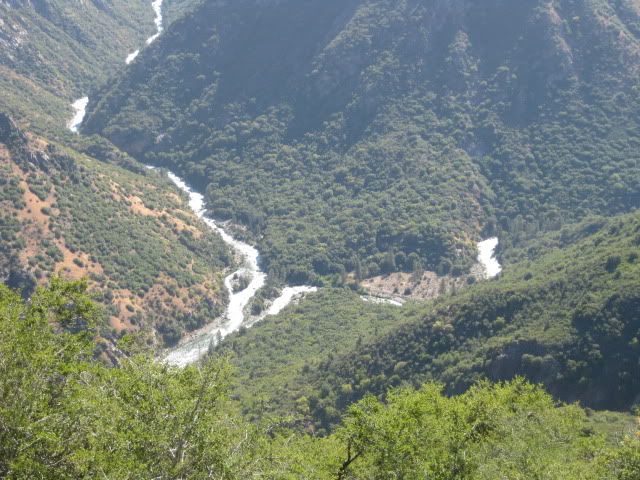 I think Jack spotted a black bear! o wait it's just Chris on the other side!
What's a trip out to the wild without hitting some dirt? This part was totally unplanned but we had a few curious campers nearby checking out of trucks. He came by with his wife to comment about a trail he hit with his ATV that we would enjoy. We checked out the details on our maps and determined it would be a nice short trail on the way out/home. The trail was located just north of Hume lake so it was pretty cool. The trail wasn't difficult but I'd rate it as moderately difficult. For the hardcore guys it'd be a walk in the park but for some stockers or mildly built rigs it'll be perfect! Lots of steep incline/decline sections that ranged between 30-35 degrees! A few rocky sections but nothing like a Rubicon trail. The trail was great overall with lots of nice backcountry areas to camp and also the view was spectacular! I think I need to paint my hood. The dull finish just doesn't look good. blah!
Tunnel Log...
Man I barely fit! (well maybe over-exaggerating but still it seemed like a few inches to spare!)
Moro Dome... Who's dumb idea was this? I forget the details but it's a few hundred steps up and I must say it's a really long way up. I overheard it's 4-500 steps? Regardless it was painful!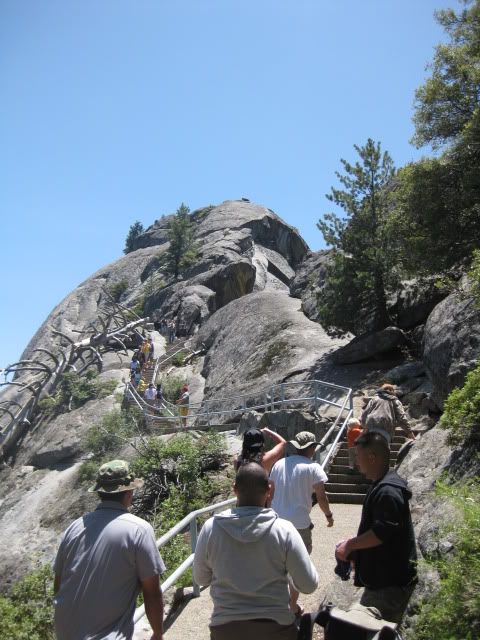 But when we got to the top.... man what a view!
We all brought our mountain bikes so we had some great time riding. We didn't ride far but did get to explore other camp grounds so we can plan for next year's trip! We relaxed by the rivers while we were there, throwing rocks and even playing in the chilled water. The river was moving swiftly so I'd say it's probably not "swim" friendly when we were there. I'm sure as the summer rolls around it'll be better.
This place rocks! We loved it so much that we're definitely going to do this again!
Thanks for checking out our vacation!