2009/06 - Kings Canyon National Park
Had a great time spending time away from civilization by going to Kings Canyon National Park this past weekend with a few good buddies!
Since everyone loves photos more than reading here's a few photos to start us off!
Boys will be boys showing who's number 1!
The tent in the back is my latest addition to my camping equipment. It's a Mountain Hardware Casa 6 with the footprint and rain fly. Sleeps 6 and also has a great feature of being able to stand inside! It's pretty big and surprisingly it sets up a lot easier than my crappy 2 pole 3 person tent. I think it took Bob and myself all of a few minutes? Taking it down was just as easy too!
What's a trip without showing the toys
Each site had room for 2 vehicles so we had to get creative in making sure Chris' trailer fits. If you guys are wondering who's green 4runner that is... it's mine and it runs so don't even start mocking me that it's just a virtual truck that never hits the trail. See that dirt below! Trail ready baby!
This trip was designed to be a weekend away from civilization. We had zero intentions of doing anything. When's the last time you got to do nothing away from home? The weather was great and well worth just relaxing. Chris got a new game so we had to give it a whirl. The game is called Bocce Ball. If you don't know what it is, it's a great game where you try to toss/throw/roll your ball closest to a golf ball sized market. The ball you throw is roughly the size of a softball. It's a great game and definitely killed some time
mmm Friday night dinner! Shrimp while camping? Hell yeah! Yup we had to splurge! Found a great recipe on
AllRecipes.com
. I changed the recipe a bit by replacing tomato sauce with tomato paste and added some Worcestershire sauce, oregano, rice wine vinegar and some plain jane red wine. Just got lazy trying to mix up the exact recipe so I just threw everything I can find in the cabinet that was close enough to it. I didn't tell my victims on the fubar recipe but surprisingly it tasted damn good!
Boiled up some twisty pasta and it was a complete meal! O yeah we have some hot dogs for Jack and also some side fixings!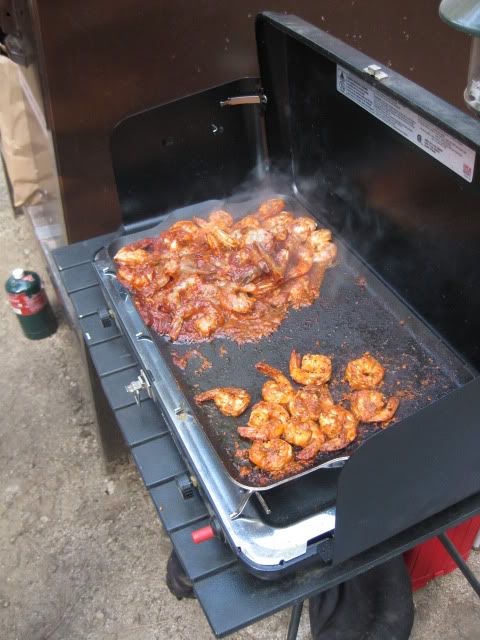 Nature at its finest...
I've seen black bears but never a deer! Way cool!!!
Saturday night dinner.... Linguica! Man this stuff was spicy but holy batman was it good! Not pictured here was Bob's sloppy joe. Sloppy joe for camp? yeah we're not normal
we love to eat just about anything you don't expect while camping! It was awesome! Bob, thanks for the recipe!!! The 3 alum items were corn.... mmmm corn on the cob!
Bob doing.... (umm... work...)
I'm glad all of my work requires a computer and internet. I was screwed cuz we had zero service out there
If you look closely at the grill, we're heating up some apple pie. You know what they say about "warm apple pie" right?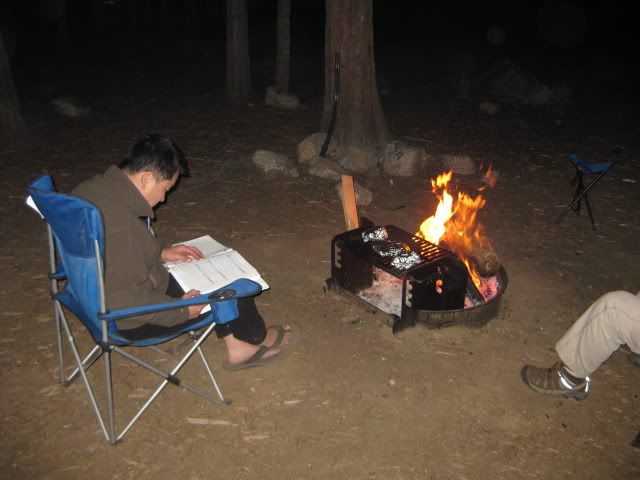 That's where the two rivers meet! This was on the way out of Kings Canyon. Can you believe we were somewhere near the base of the river to the top right?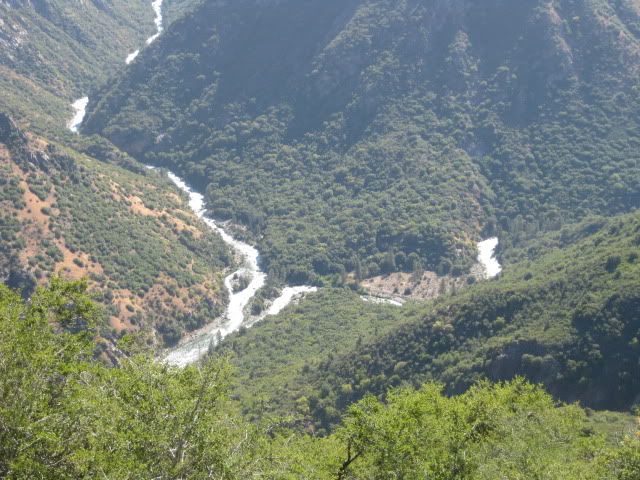 I think Jack spotted a black bear! o wait it's just Chris on the other side!
What's a trip out to the wild without hitting some dirt? This part was totally unplanned but we had a few curious campers nearby checking out of trucks. He came by with his wife to comment about a trail he hit with his ATV that we would enjoy. We checked out the details on our maps and determined it would be a nice short trail on the way out/home. The trail was located just north of Hume lake so it was pretty cool. The trail wasn't difficult but I'd rate it as moderately difficult. For the hardcore guys it'd be a walk in the park but for some stockers or mildly built rigs it'll be perfect! Lots of steep incline/decline sections that ranged between 30-35 degrees! A few rocky sections but nothing like a Rubicon trail. The trail was great overall with lots of nice backcountry areas to camp and also the view was spectacular! I think I need to paint my hood. The dull finish just doesn't look good. blah!
Tunnel Log...
Man I barely fit! (well maybe over-exaggerating but still it seemed like a few inches to spare!)
Moro Dome... Who's dumb idea was this? I forget the details but it's a few hundred steps up and I must say it's a really long way up. I overheard it's 4-500 steps? Regardless it was painful!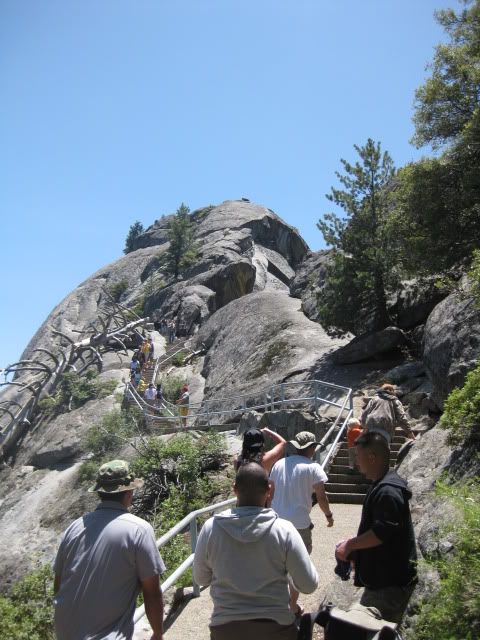 But when we got to the top.... man what a view!
We all brought our mountain bikes so we had some great time riding. We didn't ride far but did get to explore other camp grounds so we can plan for next year's trip! We relaxed by the rivers while we were there, throwing rocks and even playing in the chilled water. The river was moving swiftly so I'd say it's probably not "swim" friendly when we were there. I'm sure as the summer rolls around it'll be better.
This place rocks! We loved it so much that we're definitely going to do this again!
Thanks for checking out our vacation!
Despite concerns of the event having a low turn out due to the high winds and cold weather conditions, the 6th annual Pismo 4runner Jamboree was held on October 10-12, 2008 and it was a great event. About 57 vehicles had originally registered for the event but only about 47 showed up. The event attracted people from all over, including Northern and Southern California, Washington and some even came from as far as Virginia and Pennsylvania.  The wheeling was epic and the organization was superb. Stay tuned at UltimateYota's website under the Trip Reports section for updates on the
2008 Pismo 4runner Jamboree event
, and make sure you sign up early for the 2009 Pismo event so you won't be left out on the action from 2008!
Oceano Dunes State Vehicular Recreational Area, formerly Pismo Dunes SVRA is located off the central coast of California. The sand dune complex is geologically unique and also provides an impressive playground for off-highway enthusiasts from throughout the United States. One of several OHV areas administered by the California Department of Parks and Recreation, Oceano Dunes also offers visitors other recreational activities such as swimming, surfing, surf fishing, camping, hiking and simply enjoying the beach environment.


Participants enjoyed a variety of obstacles in the dunes by traversing large bowls, steep inclines/declines and varying sizes of uneven mounds (aka whoops). Some of the brave owners launched their vehicles in the air off of the inclines.

The event organizers offered its first ever GPS Challenge where participants had to locate 5 GPS coordinates with challenges posted at each site. The GPS challenge proved to be difficult as many attempted to locate the 5 points of interest but only 2 participants successfully located and completed the challenge.


The event attracted many vendors who donated great prizes for the raffle donation. The raffle benefitted the Friends of Oceano Dunes which is a California Not-for-Profit Public Benefit Corporation. Their objective is to unite the many people who enjoy the Oceano Dunes in a cohesive organization that can promote and reinforce responsible recreation.

We would like to thank the following vendors for supporting the 6th Annual Pismo 4runner Jamboree 2008; 12 Volt Guy, All Pro Offroad, Demello Offroad, Icon Vehicle Dynamics, Lightforce, Monster Energy, Northridge Toyota, Poly Performance, Sand Addiction Magazine, San Diego Offroad Innovations LLC, Sierra Expeditions, Splash Cafe, Sway-A-Way, Total Chaos Fabrications, WabFab Offroad, Warn Industries and Yotaworks.
Some images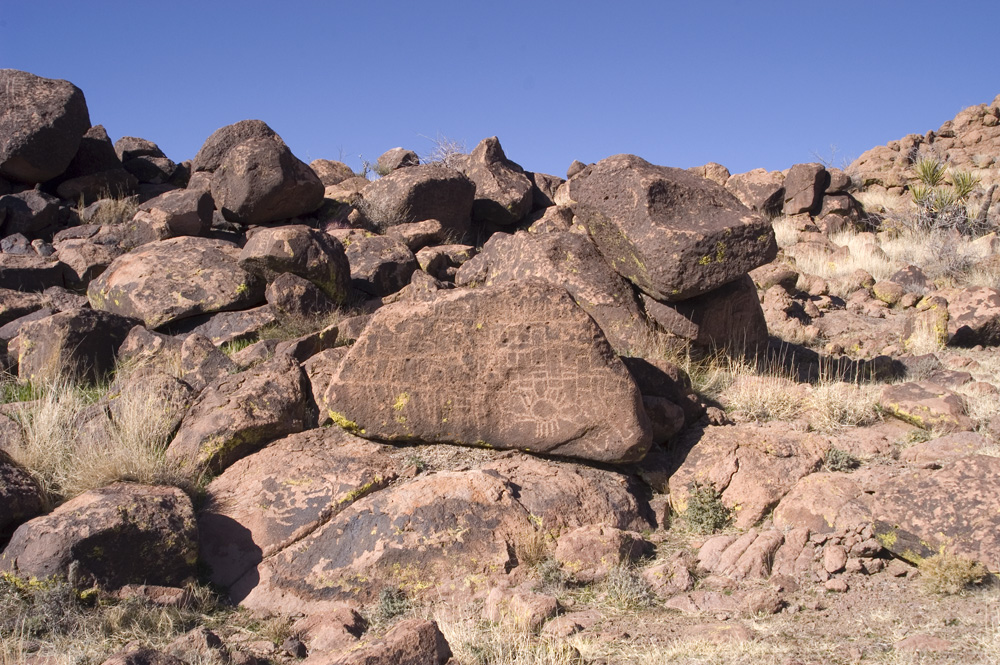 Kids do the darnest things! O wait I think these were the natives leaving their historic marks!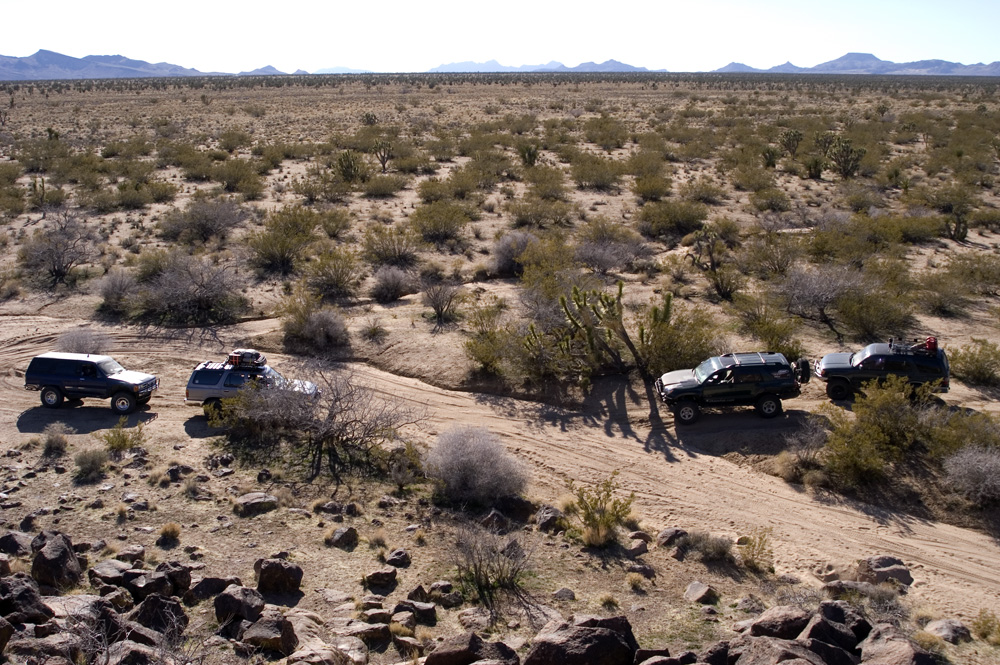 A view from the top with all 4 gens!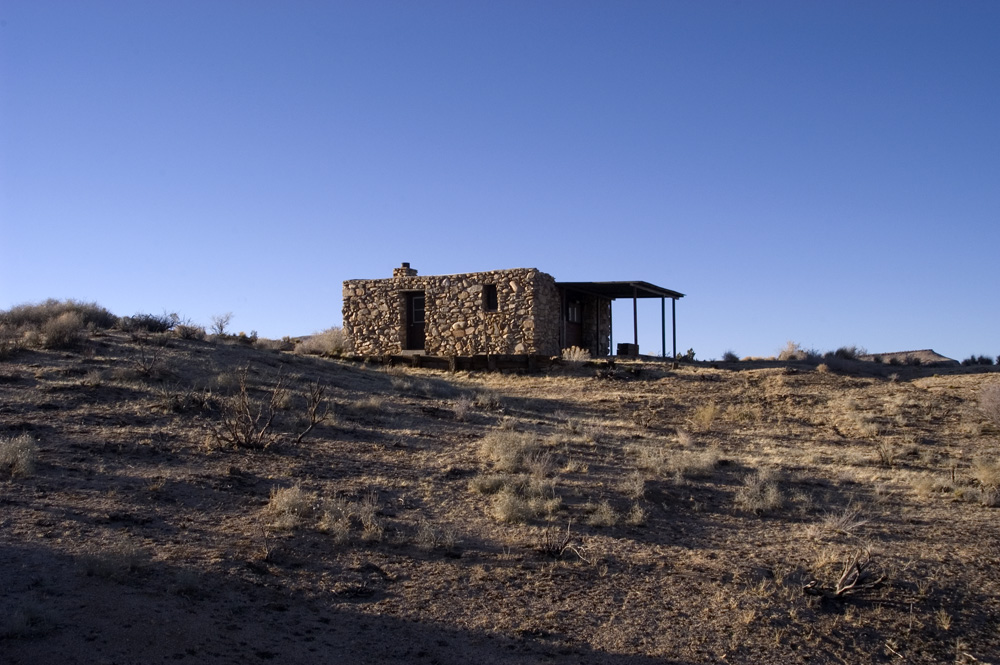 Forget which building this is but I'm sure Sean, Chris or Jenn would be able to fill us in. Apparently this site was invested with the Hata virus or something like that as it had all of the "warning labels" still on the door. I didn't bother to go in as I saw plenty of rat poo through the windows. eek!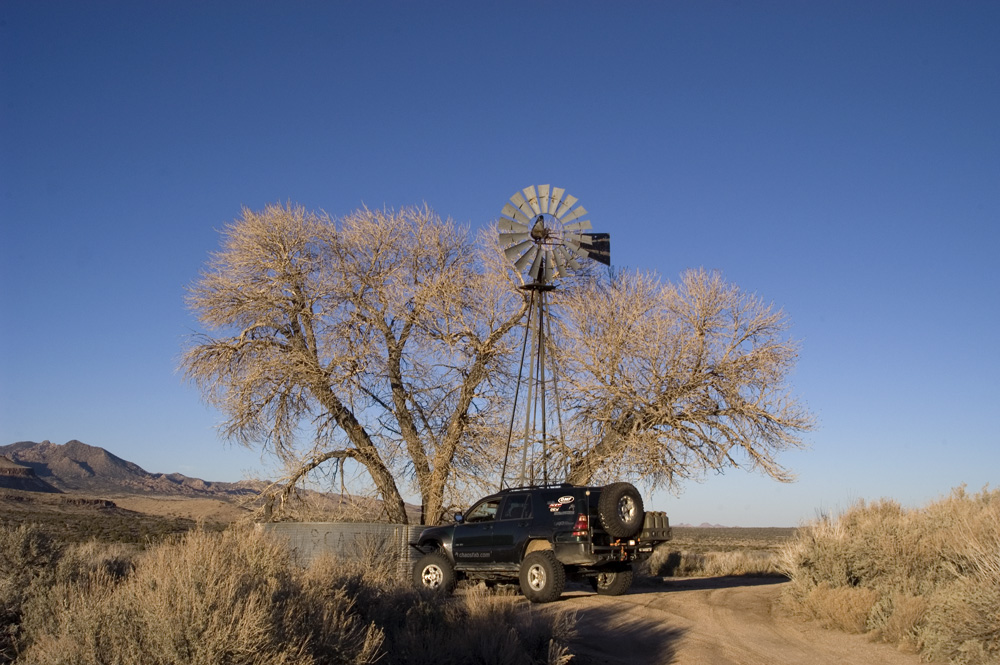 Day two camp site @ Government Hole.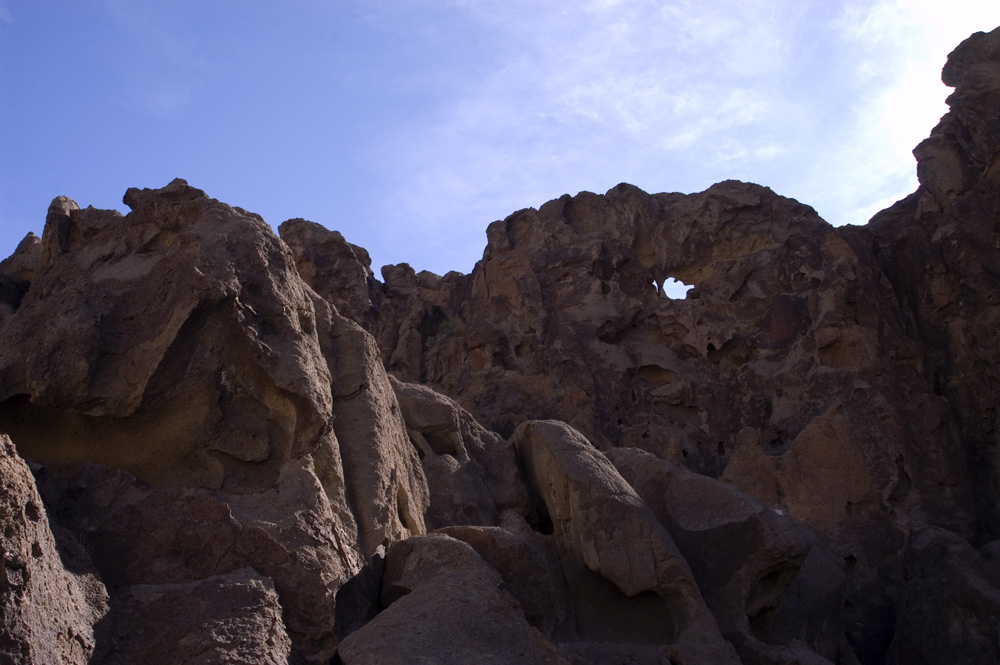 Hole in the wall. Not much of a hole but definitely one of many!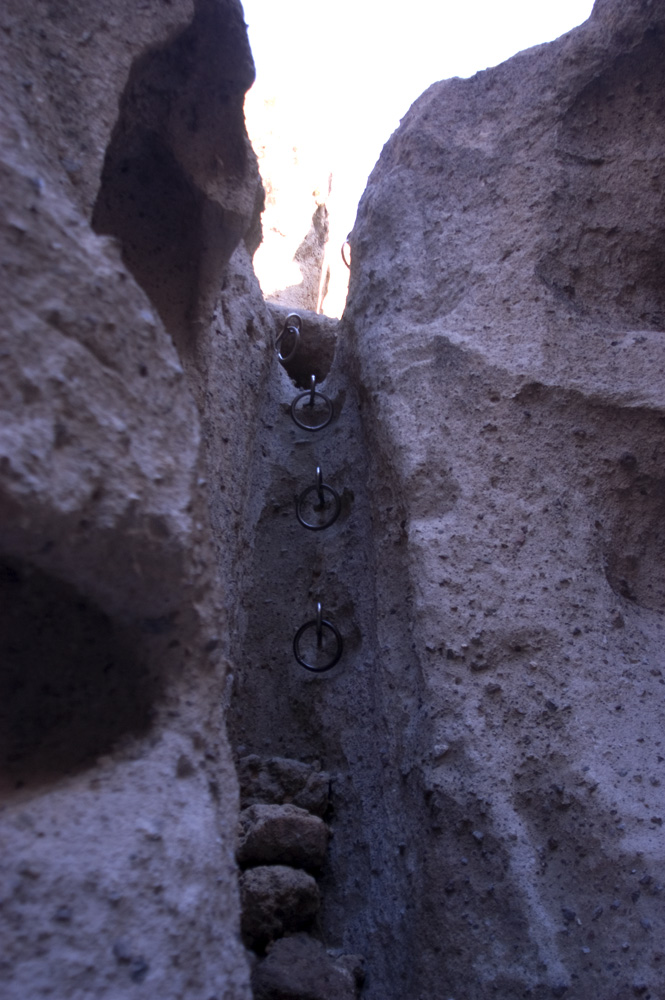 This is the trail that ya'll missed. Two sections had these "rings" attached so that you can use it to leverage yourself to get up and down. Cool stuff! I think the trail was called rings of something...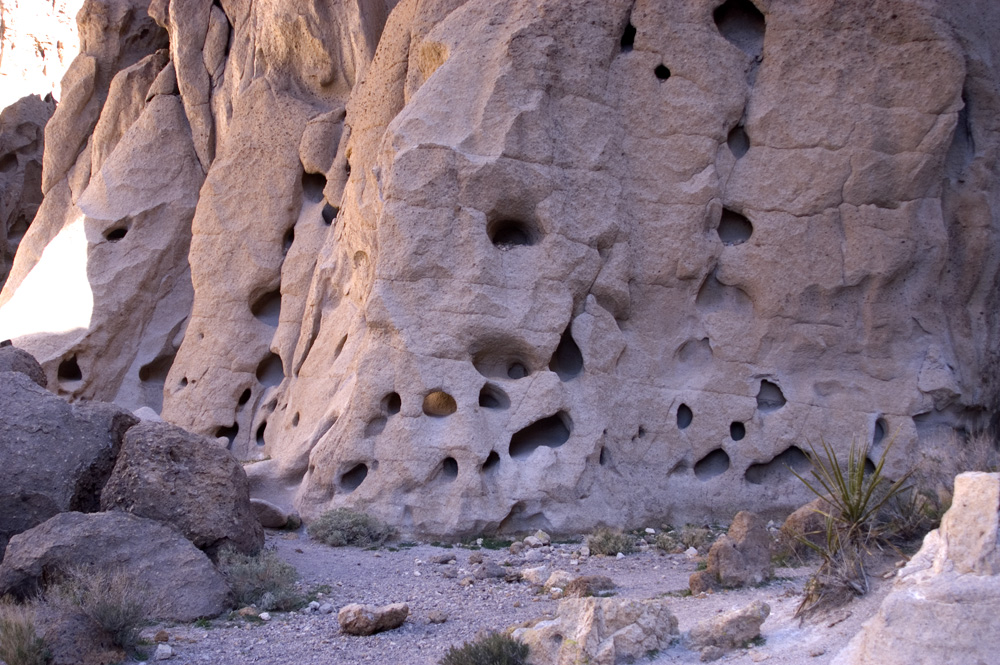 And this is where you end up at the base of the trail. Definitely the "Hole in the wall" worthy area.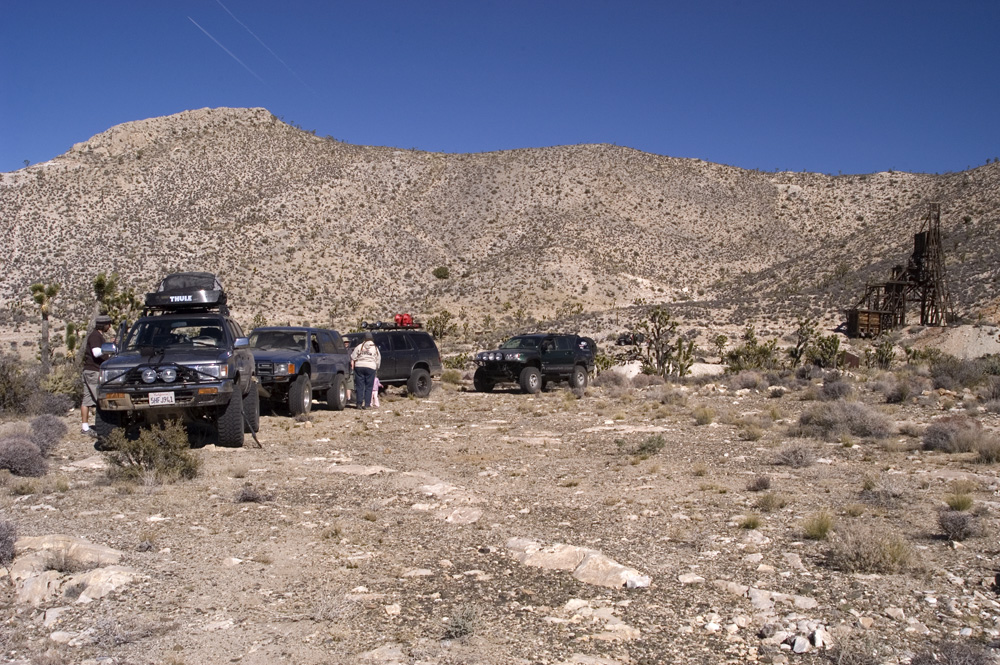 A remote decommissioned mine with two 15' shafts where we had our lunch. Some carnage from my vehicle:
* Fender didn't do so well after a lot of the rattling. One side had to be held together by zip ties. A must have item for all! It's just as good as duct tape.
* Hood pin failed so they're getting replaced w/ some other kinds thats meant for the abuse.
* Lost a rear driver coil again but this time it definitely did a number as I was flying through a section of the trail in the dark (left early so I was on my own). Realized something was wrong immediately as I bottomed out hard and stopped. Saw the damage done and kinda gave myself the "you dumba**" look and smacked myself in the head. The damage looks to be bad as it appears my abs sensor is damaged (xmas tree on the dash) along with physical damages to the line so it looks like that's not gonna be fun fixing it (more of the cost to replace rather than the actual physical replacing). This is what happens when you don't resolve your old pending issues and still take it out and have fun
* Front passenger cv was spittin grease but not sure if it's a busted cv or just the boot (will inspect later)
* Power steering is making that infamous squealing sound so I'm not sure if it's the "lack of oil" which it appears not to be but rather a bad power steering pump. I've added a bit more oil on the limp back home from Baker and the sound has subsided but it's still there so I'm guestimating the pump is bad now.
* Tranny had some issues and I suspect I didn't throw enough oil in or it's just burning quite a bit. Either way I've added significantly more and the problem has subsided. I've checked the oil and it's still nice and red so I've got no clue. Since I've upped the tranny cooler size I've added more oil to compensate for the added volume but still weird.
The limp home was no fun. Took all of the exits to make sure everything was ok. The normal 2 hour  and change drive back took well over 4 hours I think so that was no fun. I think all of the stops to add oil here and there definitely held me up but it did keep me up as attempting to drive home  in the whee hours was prob not the safest thing to do alone.
I definitely want to redo this trail as it's a great trail (2wd friendly for the most part 99% of it actually). Not hard to do and super fun with a lot of great sites to explore. There's a few places I'd like to go back and see so I can't wait to get my 4runner back up and running! 
More Articles...